Fishing Reports
LISTEN TO CAPT. DEAN GIVE THE DOOR COUNTY FISH REPORT TUESDAYS AND FRIDAYS ON DOOR COUNTYS 97.7 THE BIG DAWG RADIO STATION!!
---
Jan 2015
The cold snap at the start of January has the bay froze all the way across with safe ice formed to some of our good offshore areas. The whitefish bite has been on fire with great catches coming in daily. Sweedish pimples, Haliís spoons in gold or silver tipped with wax worms have been working the best. The walleye bite has been better than that last couple years but as usual with ice fishing walleye it is still a hit or miss game of cat and mouse. Jigging rapalas and oddball jigs have been working the best tipped with medium shiners. Perch fishing was good early but has slowed in the recent days and good perch fishing has been hard to come by. A few jumbos have been reported by walleye and whitefish anglers but good numbers have been hard to come by. Good Luck and be safe on the ice!
Capt. Dean Gordon
Check out the pic's below from our current and past reports!! Follow the timeline as the Hooked Up crew goes season to season guiding our customers to great fun and fishing action on the waters of Door County!! Some say a picture is worth a thousand words, I would be willing to bet that the stories told by the people in many of these pictures would have to say a thousand words would not do their experiance justice!
New for 2014! The new "Hooked UP" 35 foot Viking
11 Fish in the boat for 19 bites on June 30th!
Connor hold up a pair of whopper Kings!
Some Nice early morning Kings!
A few dandys!
A nice deep water catch of Rainboes and Kings!
A BIG early June Kings!!
A nice pair of cold water Lunker Lake Trout!
A tired Oriole stoped for a rest and GPS directions!!
The South Dakota Crew with some nice spring walleyes!
A neat shot of an Osprey with an early May snack!!
A nice mixed bag catch of Jumbo Perch and whitefish from around Little Sturgeon Bay Sunday 1-27-13
Saturday 1-26-13 Rileys Point Whitefish!!
A nice Mid Day catch from June 13th!
Limit catch in a little over an hour!! 6-12
Fun morning Catch of Kings!! 6-9
4 on at once soon turned into six at once shortly after photo was snapped!! 6-9
A dandy whitefish caught jigging in over 100 FOW!!
A spinning rod King on 8lb test!! What a blast!!
A short trip to the big pond, we just fished until the livewell in the ranger was full!! Just over an hours catch! 4-30-12
Robin with her first Salmon of the year!
Bob and Robin with a double on 2 April KINGS!! 4-30-12
A nice Eye as the sun sets over the bay!! 4-3-12
What a fish!!! 4-2-12
Nice Job Robin and Ashley on a couple dandy walleyes!!
What a night!! 3 fish over 30"!!!
Bob with a Dandy 30 inch 10 pound walleye!! 3-26-12
Dan with an unusual Catch!!
Dean with a Brute, just under 32"
Bob with a trophy Spring Walleye!!
My Dad with a nice early morning Eye!!!
Dan with a nice Walleye from Sunday! 2-5
Bob with a nice early morning eye on the 1st of Feb!!
A nice Pile of whitefish from 1-27-11
A beautiful sunset on the ice!!
A nice catch on a windy day!!! 1-22-12
Rosie the fish hound posing with the first whitefish limit of the year!! 1-20-12
The first of the two new shacks for 2012 was broke in today! 1-20-11
The Hooked Up girls after a fun womans tournament!!
Capt. Dan holding Lacy's 25 pounder!!
Two honeymooners holding a pair of HUGE Kings!!
Leave it to Dan to catch an Eelpout on Lake Michigan!! Poor Mans Lobster!! 7-18-11
Katie With her 28 pound King!!! What a Beautiful Fish!! 7-16
Beau with a BIG KING and HUGE BROWN that came on a double header!! Caught by Katie and Kyle on a July 16th trip!!
Mike Sidders with a nice King from over the weekend!! Check out Mike's Review of his trip with "Hooked Up" at his blog yellowdogpatrol.com
Dan and Beau with an early morning limit catch of kings and rainbows 6-21-11!!
A near limit catch of 19 Kings from 6-20-11!!
A nice Catch of 15 BIG kings on 6-19-11!!
Kati with a HUGE King!! 6-17-11
Some nice kings from Friday June 17th!!
Capt. Beau with a Huge King over 20 pounds already in mid June! 6-14-11
A nice catch of chunky, full bellied Kings!! 6-12-11
Amanda with her Nice Bass!!! 6-7-11
Capt Dean with a 5 pound Smallie! 6-5-11
Dean with a nice Bass. 5-30-11
Capt. Beau with a nice Bass 5-30-11
Ashley her nice catch! 5-26-11
Capt. Dan with a nice Bass 5-26-11
Bob with a chunky smallmouth! 5-24-11
My Dad Jim with his HUGE 32" Eye!!! 5-8-11 This one is going on the wall!!
Capt. Bob with a nice 31" Eye!! 4-26
Robin with her first walleye of the spring!!
Another Nice Spring Walleye!!
A nice early morning walleye!!

The Hooked Up fleet of ice shacks all back on shore after another great ice fishing season!! We will be fishing out of our portables for the remainder of the season and are busy getting the boats ready for spring!! Thanks to everyone that came out this winter to make the 2011 ice fishing season so much fun!!
A limit of whitefish along with a few bonus jumbo perch! 2-26-11
A nice Catch 2-12-11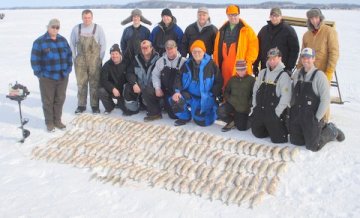 Tim S. and crew on 2-12-11, This hunting gang ended up with 18 whitetails this fall and their luck pulled through on the ice as well with a limit of 150 whitefish!! Great job guys!!
Whitefish, It's whats for dinner!!
A limit of whitefish and a few bonus perch from 1-28-11
A limit of white fish for one of our groups on Saturday 1-22-11
Former Dallas Cowboy Al Johnson with a Nice King! 8-30
Congrats to the 1st Place Champs in the Sturgeon Bay Offshore Challenge Womans event!! Great Job Girls!! From Left to right, Jenny, Nicole, Brittany, Courtney and Hanah!!
An early morning limit catch on 8-6!!
A nice catch from this morning!! 7-27-10
Susie fighting the first of many nice Kings caught on Sunday July 11th!
Friday July 9th was a great day with our morning, midday, and evening charters all catching limits of Kings and Steelhead!! Pictured above is a triple header on our evening trip!
Some nice Kings caught on the 4th of July morning! Great Job Jason and Crew!
Keith and Crew with a nice Catch of some of the biggest Kings we have seen all year!! As always it was fun fishing with your group and I look forward to seeing you again in July! 6-20
Capt. Dan and Capt. Beau posing with a nice catch of over 30 Salmon and trout from this morning!! I have said it before and I will say it again, there is NO substitute for having a crew that knows how to catch fish and these two are truly two of the best on the lake!! Great work Guys! 6-16-10
Another 30 fish limit!!!
A fast limit 6-6 AM!! Great Work guys!!
It was a rainy night but the fishing was hot with yet anohter limit Saturday 6-5!! Our 3 charters today caught a total of 65 Kings and had over 100 fish on the line!! Yesterday was just as good with a 4 person limit in just over an hour of fishing!!
A fast Limit Saturday!!
Steve with a nice 40" Musky caught today!!
Nicole with her nice 5 pound smallmouth Bass!!
Capt. Dean and Robin with some nice Kings! 5-16-10
A pair of whopper walleyes!! 4-17-10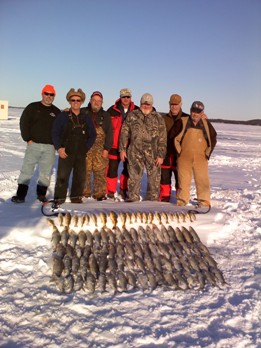 A great catch by the boys from Indiana of Perch and Whitefish from 2-20-10!
New York Giants NFL player Rich Seibert and his son Hunter after a great day fishing!
Tom Seibert and Crew after a great day on the ice!
A nice 28" Walleye
A 3 person limit of 45 Jumbo Perch!!
This picture says it all! To fishermen on Lake Michigan, bananas on board are worse luck than standing on a ladder on Friday the 13th with a litter of black cats on each rung. We let it slide this time, but next time Mark will be swimming to shore!! Haha