Get ready to get "Hooked" on Ice Fishing Door County!!!!
**DOOR COUNTY'S LEADER IN ICE FISHING GREEN BAY, WISCONSIN SINCE 2006**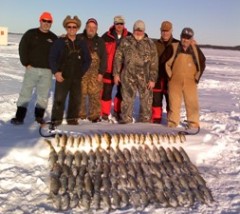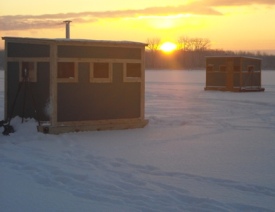 Come join Hooked Up in the winter months for some Ice Fishing and enjoy a day spent catching Perch, White Fish, Northern Pike, Walleye and Brown Trout through the frozen waters of Green Bay!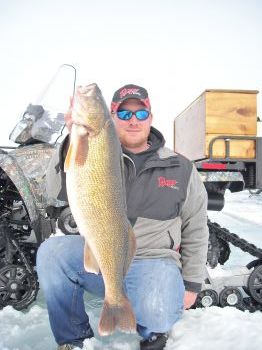 We have several large heated ice houses all located in our hot spots giving you the best chance for success!  Our ice houses will fish up to four fishermen in style with gas heat and comfortable seating.  We provide transportation to and from our fishing grounds with one of our 6 person Polaris Ranger crew cabs with enclosed cabs and heat. With climate control from your car to our heated ice houses, it's easy to forget about the cold weather outside and enjoy your day spent catching fish in style.
Hooked Up specializes in fully guided fishing trips on Green Bay including all the bait, tackle, and a fresh warm meal prepared on the ice for your party.  Hooked Up's experienced guides will handle all your ice fishing needs!
Ice fishing trips are a great way to get out and enjoy the winter months at a price anyone can afford!
2022-2023 Ice Fishing Rates!!!
All trips require a Wisconsin fishing license for anyone over 16 years old.
Semi Guided Ice House Rental = $400 per ice house up to four people! 
Includes heated ice house, transportation, bait, rods and get tips and demonstrations from our guides at the start of your day to ensure you will have a successful outing!  Your guide will remain on the ice all day  available to assist you and ensure your trip is a success.  Rates based on full 7 hour day on the ice. 
Fully Guided Trips= $175 per person for a 7 hr. DAY on the ice! ($400 Min. on guide trips) 
Our fully guided outings are the most popular and are your best bet to ensure you go home with a cooler full of cleaned fish ready for the fryer!  Our guided trips include everything you will need including a warm permanent ice house, transportation to and from our fishing grounds, all the bait, tackle, equipment plus a hot lunch prepared on the ice, fish cleaning and most importantly an experienced and friendly guide that will stay on the ice available to assist you throughout the day!